(Updated at 9:50 a.m. on 4/21/2021) Local officials and organizations expressed relief at the guilty verdict in the Derek Chauvin trial for the murder of George Floyd, while also reiterating a need to address inequities and discrimination within the criminal justice system.
Yesterday (April 20), Minneapolis, Minn., police officer Derek Chauvin was found guilty of murder and manslaughter for killing George Floyd on May 25, 2020 by kneeling on his neck. Captured on video, Floyd's murder spurred protests against police brutality around the world, including in Fairfax County.
Within minutes of the verdict, the Fairfax County Police Department and the Fairfax County Board of Supervisors Chairman Jeff McKay shared their separate statements together.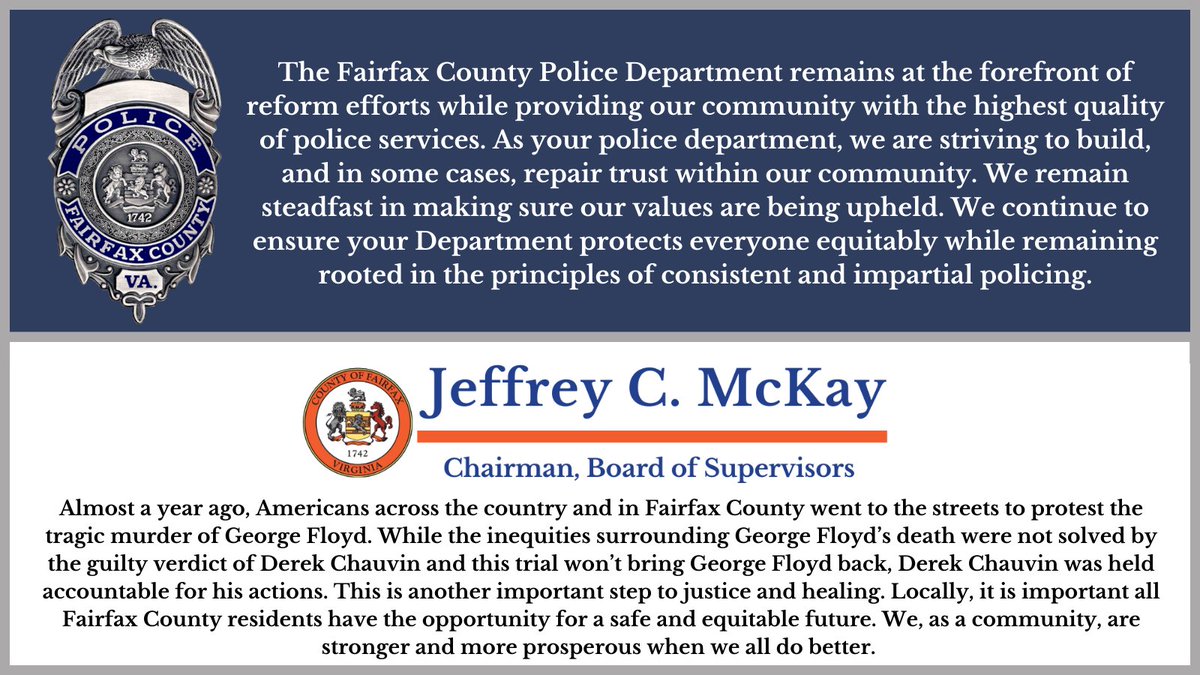 Notably, FCPD's statement does not specifically mention the trial or the guilty verdict, but does speak to their ongoing reform efforts and repairing trust in the community.
Del. Mark Keam, who represents the 35th District, including the Town of Vienna, said that the jury's verdict "confirmed what the world witnessed."
The jurors confirmed what the world witnessed. #GUILTY #JusticeForGeorgeFloyd https://t.co/8GmPEgxcse

— Mark Keam (@MarkKeam) April 20, 2021
The Fairfax County chapter of the NAACP released a statement earlier in the day calling for peace no matter the verdict.
After the guilty verdict were announced, the organization re-posted NAACP national's message on Facebook, which read:
"Justice has prevailed in the case against #GeorgeFloyds killer #DerekChauvin, but the work is not done! We must keep fighting to end qualified immunity, and we must get #PoliceReformNOW."
Fairfax County Commonwealth's Attorney Steve Descano tweeted that the verdict was "a first step toward justice and accountability," but he also called Chauvin's trial "a dramatic reminder of the pain countless Black Americans experience as a result of a justice system that too often devalues their lives."
Those of us who wield power in this system have a responsibility to learn from & be responsive to this pain. In Fairfax County, I will continue to serve as the independent check on the justice system the community deserves & hold police who abuse their power accountable. 2/2

— Steve Descano (@SteveDescano) April 20, 2021
Several of Fairfax County's Congressional representatives said via social media that they agreed with the verdict.
Rep. Jennifer Wexton called it "a good day for justice." Rep. Gerry Connolly wrote that the verdict was "just," adding that "far too many Black lives have been cut short" and "we owe them real, structural change."
"The jury confirms what we saw: Derek Chauvin is guilty of murdering George Floyd," Rep. Don Beyer said on Twitter. "I'm thinking about George Floyd, his family and friends, who have been through such much."
Wexton and Sen. Mark Warner urged their colleagues in Congress to support the George Floyd Justice in Policing Act, which would require police to wear body cameras, establish a national registry for records of police misconduct, and limit qualified immunity as a defense in civil lawsuits against law enforcement officers, among other reforms.
Reston Now, Tysons Reporter's affiliate site, reached out to the Fairfax County Police Association for comment but has yet to hear back as of publication.
Acknowledging that students and staff may be "experiencing a range of emotions" in response to yesterday's verdict, Fairfax County Public Schools Superintendent Scott Brabrand shared a list of resources for families and teachers to facilitate discussions about racism and help children "navigate this challenging time."
"We must be fearless to bring forth change to ensure that our students and staff can learn and work in an environment where racism and hate are not tolerated, and all feel safe, valued, and included," Brabrand said.
Photo by Nick Papetti